Al0 has finished creating the mummy skins for the thug, runt and bitch models for the Halloween mod.
The mod will support Death Match and Bagman and there will also be a CTF version of the mod.
In Bagman the teams are called Zombies and Mummys and Alo's skins will be the Mummy team skins.
The death match skins are all existing skins that are appropriate for the mod as well as a few custom player models that fit the theme as well. Alo's skins may be used in DM as well.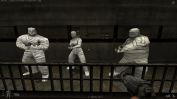 ---