I got an email from UnevenRatio saying he is going to get setup again and comeback to Kingpin. So I thought it was a good time to post about his old death match map he made called DM Shot Gun.
DM Shot Gun is a small death match map. It consists of two rooms with each room having two exits to the next room. The only weapon is the shotgun.
It has 8 player spawns and uses all standard Kingpin textures.
You can download DM ShotGun from here.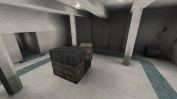 ---