Another of the classic Quake 2 death match maps is The frag Pipe. It has been converted to Kingpin twice. Once by Pigwhistler and also by Whoop Ass.
From the Quake Wiki:-
The map is centered around a large cylindrical chamber, which features a moving platform above it. There are several hallways and rooms around the center. "The Frag Pipe" itself is a tunnel that fills with lava when one of the doorside switches is actived.
The Atrophy Frag Pipe (kpq2dm3.bsp) by Pigwhistler is textured similar to the other Quake 2 map conversions he did using standard Kingpin textures.
Frag Pipe Industrial (waq2dm3.bsp) by Whoop Ass is textured using the Industrial Waste theme.
You can download The Atrophy Frag Pipe from here.
You can download Frag Pipe Industrial from here.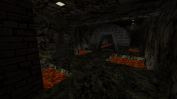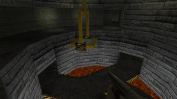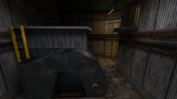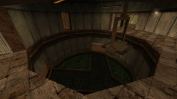 ---