Me and Fredz would just like to wish all the Kingpin players out there a very Merry Chrstmas :)
We hope you have a good time whether you are relaxing at home or out partying .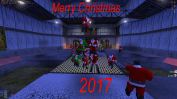 2017 has been a good year for Kingpin. Several mods have been updated and renewed with new game modes added to some. There have been lots of new maps released for death match, bagman and various mods and there has even been a new Duke Nukem thug skin :)
Kingpin now has its own master server so our servers are independant of gamespy or qtracker etc. We have new dedicated server files and patches that help bring Kingpin into the 21st Century.
Lets hope 2018 is another good year for Kingpin too :D
---