A while ago, on an old HDD, I found an unreleased map set in a tennis court. I liekd the idea so I took the tennis court and built a new map around it. It just needs to be tested and then can be released.
Here is a screenshot of the work in progress.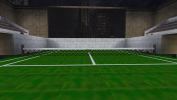 Update 31st October After doing some testing there were several suggestions made which I am currently implementing. It shouldn't take long.
---