AB|Jones has the honour of releasing the first new Kingpin map for 2017.
It's a Bagman Map called Facing Worlds.
Originally it was a wildy popular Unreal Tournament map. Then it was rebuilt in Quake2 and now it has been converted to Kingpin by AB|Jones.
Facing Worlds is a small Bagman map with a space theme. There are two towers which house the team's bases. The bases are separated by two small, inclinded, pathways. The layout is subly simple.
It uses a custom sky and custom textures, has teleports to the roof of the tower where the grenade launcher awaits and there are enough weapons and items to keep people happily fragging.
Update 8th January
- After playing the map tonight AB|Jones decided to imrove gameplay of the map by making some weapon type and placement tweaks.
You can download the updated map (team_facingworlds.bsp) from here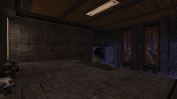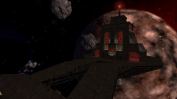 ---