When I was updating the zipfile and testing out the Enhanced Bagman mod I found that the custom tommygun model wasn't quite right. Some of the animations weren't right. So Hypov8 converted a new custom tommygun model for use in the mod.
Now he has released his ColtM41a model as a stand alone custom model for use in all forms of Kingpin. It will show up in your hud and when on the ground in map
You can download the ColtM41A from here.
The files are in a pak4 file.
Just Unzip/extract the pak4 file to your Kingpin folder and it will be placed in the correct location.
If you already have a pak4 file in your main folder then extract the new pak4 to a temporary folder somewhere and rename it to another number such as pak3, pak5 etc which you don't already have. Then copy it to your kingpin/main folder.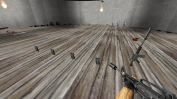 ---