SKPDM1, or Small Death Match 1 as it is called , is a very old death match map made by MoBxSkull. It went through two revisions to get to the final version and all three maps are included in the zipfile.
This is another map we didn't have in the archive.
This is a very small, octagon shaped map. There is an HMG in the centre of the map where there is also four cooling mods and four ammos. The rest of the weapons are spread around the edge of the map. There are also four little bunkers around the edge of the map where you can shoot from. Each bunker contains armour.
The first version of the map is dark with red lighting. The revised version is lighter and has both red and green lighting. The final version is much lighter and only has a hint of red and green lighting.
This map would probably be good for some 1 vs 1 action :)
You can download SKPDM1 from here.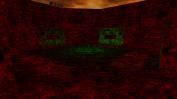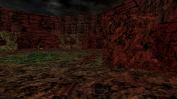 ---