Hypov8 and I have collaborated on a new Winter themed map called Xmas Combat. It is a remake of the old death match map called Combat.
Xmas Combat is a smallish Xmas themed Bagman map set in an old war torn village during Wintertime.
The map contains four bombed out buildings, two on either side of a frozen river which dissects the map through the middle. There are also two army vehicles included.
The money drop is on the bridge that crosses the river. The team's bases are in two of the bombed out buildings.
The ground is covered in snow and two of the buildings contain huge old radios that play traditional Chrsitmas music.
The map contains lots of custom textures.
You can download Xmas Combat from here.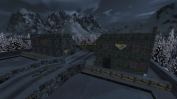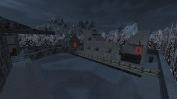 ---