Table of Contents
---
System Requirements
According to Interplay the system requirements for Kingpin: Life of Crime are:
| | | |
| --- | --- | --- |
| | System Requirements: | System Recommended: |
| Operating system (OS) | Windows 95/98 | |
| Processor (CPU) | Pentium 233 MHz | Pentium 266 MHz |
| System memory (RAM) | 32 MB | 64 MB |
| Video card (GPU) | 4MB 3D card (DirectX compatible) | |
| CD-ROM | 4x | 8x |
But actually this is not completely correct. Since 1999 computers have changed drastically and Kingpin has never supported DirectX. You always needed an OpenGL or a 3Dfx video card. But since 3Dfx went bankcrupt and the game is probably playable on 166 Mhz, my recommendation would be:
| | |
| --- | --- |
| | System Recommended: |
| Operating system (OS) | Windows 7 |
| Processor (CPU) | X86 Intel/AMD 1 GHz or more |
| System memory (RAM) | 1 GB or more |
| Video card (GPU) | ATI/NVIDIA OpenGL-based video card |
| Hard disk drive (HDD) | 600 MB |
Why Windows 7:
Windows 98 is no longer supported by Microsoft, so Vista is the closest option, but most people criticise it. The next option would be Windows 7. That doesn't mean it won't work on other Windows versions. This is just a recommendation.
Why such high CPU & Ram:
These are the system requirements of Windows 7. These days, the type of CPU is more important than it used to be. It needs at least an X86 architecture and an X64 architecture should also be fine. Kingpin was never compiled for a 64 bit architecture but it should not cause any problems. Something that can cause problems, however, is that some newer computers run on a different architecture, like the ARM architecture, which Windows 7 can also run on. The ARM CPU won't work with Kingpin. Luckily that type of architecture is not that common yet and you will find it mostly in tablets or small pc's. The only brands for X86 architecture are Intel, AMD and VIA. VIA should probably work, but I've never really tested it and don't recommend it.
Why OpenGL-based:
Kingpin only works in OpenGL or in 3Dfx mode, there is no directx or software mode. For OpenGL support the brands NVIDIA and AMD work best. There are also other brands like Intel, Matrox, S3, SIS, VIA and others, some of which you have probably never heard of. But mostly they won't work or I would at least not recommend using those brands. But sometimes, if you've got no choice, you can always try installing the correct video driver.
Why 600 MB:
The setup of Kingpin only asks for 570 MB, with exact number for the installation of the Kingpin cd version being 561 MB (588.255.232 bytes). Not every Kingpin version has the same size and you always need free space anyway.
---
Video driver
To make the game work, video card drivers are the most important thing to have installed correctly . If you know exactly how to do that or have already done this, you can skip this part and go to install Kingpin.
But most people install the last video card driver and then they get bugs and the game won't work. It is most important to install a stable videocard driver, which is a little difficult as most brands try to fix video card bugs for the newest games, creating new bugs for old games. So don't install beta drivers unless you are sure it' going to work. If the video card driver doesn't work, try an older/different version of the driver.
How to determine what type of video card your machine has
If you know what type of video card you have, you can download your driver:
If none of these work you can always try video driver wrapper, although it is definitely not recommended and asks a lot more from your CPU. You should always try the FAQ first. This is only here to provide some more options:
Kingpin Laptop Intel Graphics Fix
If you are having problems getting Kingpin to work on a laptop that has Intel graphics card try these fixes:-
Download the GLDirect utility from here and copy the opengl32.dll that comes with it to your Kingpin folder.
The other fix is to download and install the nGlide 3DFX wrapper from here.
This nGlide fix has just been tested by Zeppelin)FNR) and Killa and has worked for both of them :)
---
Install Kingpin (CD)
Now that you have made sure your PC is capable of running the game, it's time to begin the installation. Grab your Kingpin CD and:
Insert the CD into your CD-Rom drive.
The auto-run screen should appear within a few seconds.

If the auto-run screen appears:

Simply click on INSTALL and follow the onscreen instructions for installation.

If the auto-run screen DOES NOT appear:

Double click on the COMPUTER icon on your desktop.
Double click on your CD-ROM drive icon.
Double click on the SETUP.exe file.
When you first insert the CD, a screen should pop up that look like this:

If you've made it this far, you will most likely have no problems whatsoever. But you can either follow the following steps, or just skip this bit and go to setup the game.
After pressing the Install Kingpin button or running the SETUP.exe you get the following screen: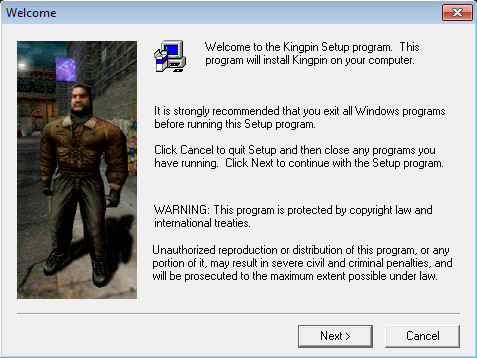 After pressing the
Next
button you get the following screen: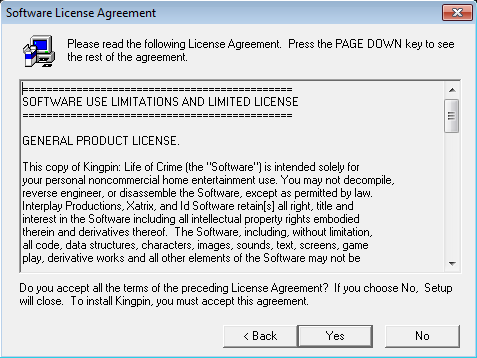 A
License Agreement
which, most likely, noone will read, but feel free to do so :)
If you don't agree, you cannot install
Kingpin
, so just press the
Yes
button and go to the following screen: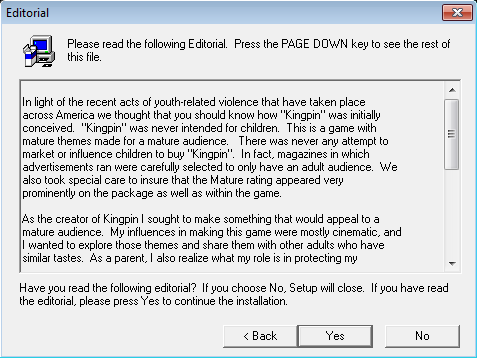 It can actually be pretty funny to read, so here's the full text:
In light of the recent acts of youth-related violence that have taken place
across America we thought that you should know how "Kingpin" was initially
conceived. "Kingpin" was never intended for children. This is a game with
mature themes made for a mature audience. There was never any attempt to
market or influence children to buy "Kingpin". In fact, magazines in which
advertisements ran were carefully selected to only have an adult audience. We
also took special care to insure that the Mature rating appeared very
prominently on the package as well as within the game.

As the creator of Kingpin I sought to make something that would appeal to a
mature audience. My influences in making this game were mostly cinematic, and
I wanted to explore those themes and share them with other adults who have
similar tastes. As a parent, I also realize what my role is in protecting my
child from influences that might have a disturbing effect. I certainly do not
consider "Kingpin" appropriate fare for my child, but I cannot sit back and
hope that the government or some public interest groups will protect her; that
responsibility is up to my wife and myself alone. As soon as we as a society
abdicate our personal responsibility towards protecting and caring for our
children we give up our basic freedoms as Americans; freedoms that have been
hard fought and even harder won.

As parents, we must look into our own backyards and see what our children are
doing and become more personally involved with their activities, ideas and
friends.

Drew Markham
June 1999
Los Angeles, California
But you probably just want to skip all again and press the
Yes
button and go to the following screen: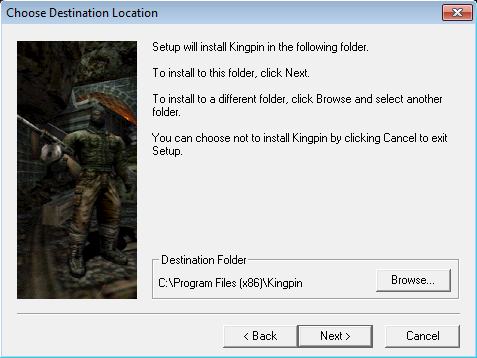 This will give you the location of where
Kingpin
is installed, so usually
C:\Program Files\Kingpin
; unless you use 64bit(X64) Windows system, in that case it will show
C:\Program Files (X86)\Kingpin
as in the screenshot because it's a 32bit(X86) game.
If you want to use QERadiant that comes with Kingpin you proabably don't want to install Kingpin in Program Files because can cause a lot of problems with filename mangling.
You proabably want to install in:
C:\Kingpin or C:\Games\Kingpin
If you've chosen your destination of Kingpin and pressed the Next button you will get the following screen: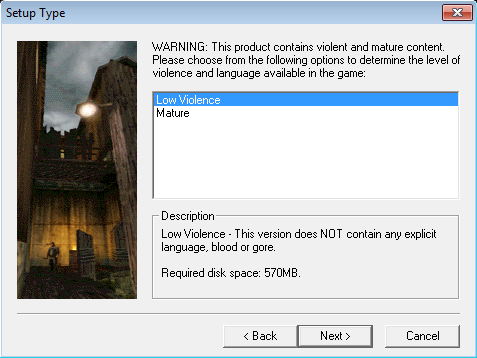 Here it really does matter which version you're installing. The versions have different sound files and the amount of blood is also diffrent. You can always change the version with the follow patch:
Or by reinstalling the game.
If you like cursing you probably want to install the Mature version or otherwise the Low Violence version. After choosing your version of the game, press the Next button and it's going to install the game.
You will get a big warrning screen: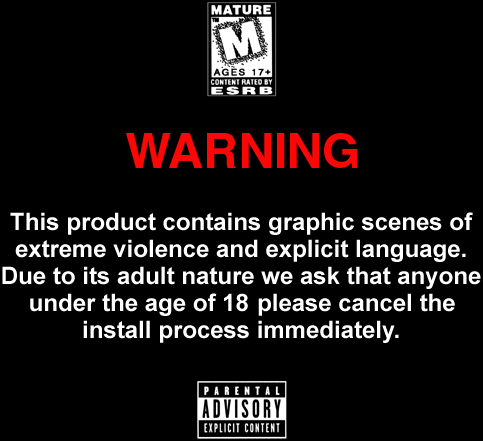 And a progress bar to see the progress of installing the game.

After the progress bar is on 100%, an Electronic Registration window will pop up: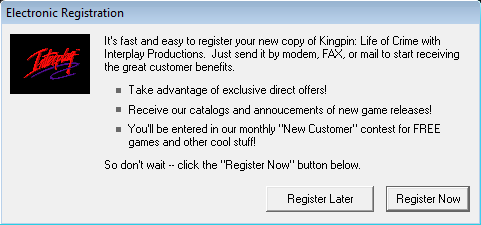 The Electronic Registation is broken anyway and won't work anymore. Just press
Register Later
.
A new window will pop up:

This time choose
Forfeit
, otherwise it will pop up again later.
After that you are pretty much forced to watcg a "
Descent 3
" advertisement.
The only way to close it is by pressing:
ALT+F4

Just be carefull not to press that on the next screen otherwise the installer will uninstall the game and you will have to start the installation process all over again.
After the "
Descent 3
" advertisement, you will get the final setup window: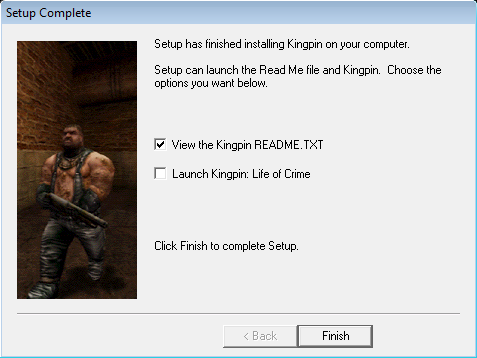 Just press
Finish
to see the README.TXT or unselect if you don't want to see it. Before you go ahead and play the game, you will first want to
patch
it to the last version. You will also notice that the auto run buttons have changed: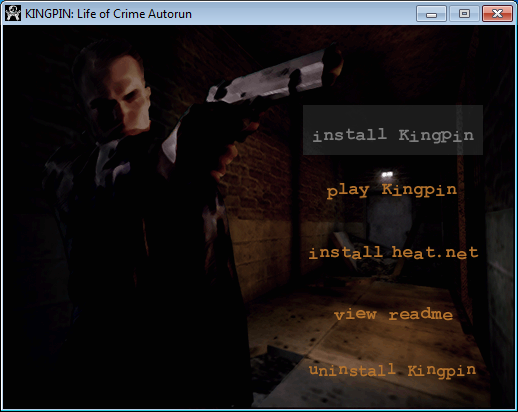 But before you start playing the game, you should definitely first
update
the game in the next tutorial:
Setup the game
.
---