Team Keypoint is a large sized, classic urban style, Bagman map that I made around ten years ago. We were talking about it in the server on Sunday so thought I would post about it.
The Nikkies and Dragons' bases are situated in urban street areas and the centre area, where the money drop is, consists of a small basketball court and a container storage area. It uses mostly standard KP textures but there are a few custom ones included.
There are 10 player spawns for each team and ample weapons and other items placed throughout the map. It has some nice lighting giving it a feeling of being dusk or maybe dawn :)
It also contains two samples of Cypress Hill songs which you will hear when you are depositing money in the team's 'safes'.
Hypov8 helped with this map of course.
You can download Team Keypoint from here.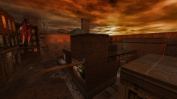 ---