Here is a great little map by Sonik which you don't see much these days.
Out of Business is a small, urban street style map which is a busy little map. What I mean by that is the more you play it the more places you seem to find that you hadn't noticed before. Or you work out how to get somewhere that you didn't know you could get to or never knew how to get there.
There are lots of places to fight, in the street, on the rooftops inside the buildings etc, and there are ample weapons and items.
This map has been added to the Newskool Fragfest server :)
You can download Out of Business from here.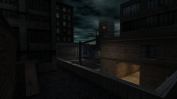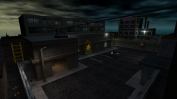 ---