Here is a popular skin for the Bitch model from the early days of Kingpin.
It's a Xena Warrior Princess skin from the TV series for the bitch model.
You can download it from
here
.
Just extract all files to your kingpin folder and they will be placed in the correct locations.
Easiest way to select this skin is to:-
Pull down the console (tilde key ~)
Type in :-
skin "female_chick/6xa xna xna"
Otherwise you can go to the Gangbang "player setup" and the new skins will be located there in the female_chick section.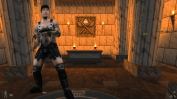 ---