Tw!ns3n
is back playing Kingpin so I thought it was a good time to highlight one of his old maps called AtomicDM.
AtomicDM is a smallish, arena style, two level map. The lower level is a corridor in the middle of the map with small rooms at either end with HMG's, armour and health.
There is also an open area above the corridor that is surrounded by passages that lead to the upper middle open area and also the lower corridor area.
It's still a popular map after all these years and is on most of the DM servers.
You can download AtomicDM from
here
.
Just extract/unzip the files to your Kingpin folder and they will be placed in the correct locations.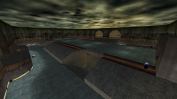 ---