Monkey Harris will be hosting a game of Death Match this Thursday. Then after a while, if enough people are playing, he will change it to Team Death Match.
Game Details:-
Server : Thursday Deathmatch
IP : 37.247.117.19:31513
Date : Thursday 29th June
Time : 21.30 (9.30pm) UK Time
Check the World clock to see what time it is where you are when it is 9.30pm UK time here.
If you need the Gamespylite Kingpin server browser you can download it here.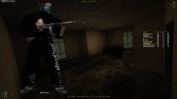 ---