As we near the 20th anniversary of Kingpin I thought I would post about a Bagman map that was released in the 1st year back in 1999.
The Great Canadian Bacon Bagman map is a large map based around a hockey rink.
The centre money drop is the hockey arena and there are two ways to get to the team bases. The safe rooms are opened via switches located nearby.
This is an old style Bagman map so there aren't wepaon cches as such but weapons are spread throughtout the map.
You can download The Great Canadian Bacon (bacon_beta1.bsp) from here.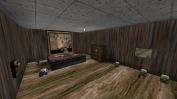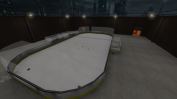 ---