Joint dropped into the game today so I thought was a good time to post about one of his maps.
KFG Arena 2 is a small to medium sized , Quake 2 style, multi levelled map.
The map uses limited textures but it gives the map a nice uniform look.
You can download KFG Arena 2 from here.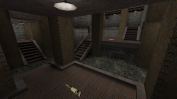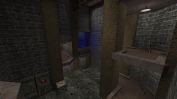 **Update 21st Dec.** Elfor reminded me there was a beta2 of this map (we only had beta at Kingpin.info). I have uploaded kfgdm2_beta2 and updated the download link).
---