If you have played the new single player episode
Barren Meadow
you may have seen the Badmonk NPC character.
This is a tribute to the Kingpin mapper
Badmonk
. Badmonk made both deathmatch and single player maps in the early days of Kingpin. Later he changed his name to Sandman and then ALMost.
If you want to check out his work then download his mappack from
here.
Just extract/unzip the files to your Kingpin folder and they will be placed in the correct locations.
The mappack contains all his DM and Bagman maps and most of his single player maps. It doesn't include Monkville, his most popular single player map, but you can download that one from
here.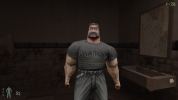 ---