Team Mayhem 3CTF2
is a high res re-textured version of
[YFS] Mayhem
's taunt_mayhem_3ctf2 map done by me. That map was a remake of the Quake3 Q3CTF1 map.
I contacted [YFS]Mayhem and luckily he still had the source map file. My version features the hires central towers texture set created by
Mr Knoxville
.
You can download Tam Mayhem 3CTF2 from
here.
Just extract/unzip the files to your Kingpin folder and they will be placed in the correct locations.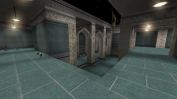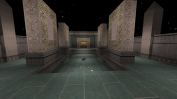 You can grab [YFS]Mayhem's original version from
here.
You can grab Mr Knoxville's hires textures
here.
You can only use these on smaller maps due to the limitations of the Quake2 engine.
---