I have done an update/remake of an old death match map I found in my maps folder. Unfortunately I don't remember where the map came from or who made it.
The map is a small arena style map with the centre area the 'death pit'.
I recently checked out the old death match map KingPin Airline´s (kp_air.bsp) and I was inspired to include jump pads in this map which you use to get to armour and cooling mods.
We will test the map at Thursday's game (why not come along and play) and if all okay I will then release the map.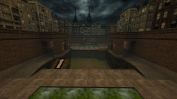 ---