(K9)'s Frag Bowl 2021 is an updated version of the old (K9)'s Frag Bowl map by Mr Damage.
The original map was made by
(k9)CoolMack
&
BigBen
and was a Hitmen only map. Later it was updated for death match by
Truzenzuzex[BC]
. Full credit to the original authors.
The map is an arena style map set in an NFL statium. It's a very colourful map and includes the playing area and the stands which are packed out with a crowd.
You can climb up behind the scoreboard where there is a HMG and armour.
It has 14 player spawns and ample weapons and items.
I updated the map as it is a fun map to play but the old version only had 6 player spawns and the weapon/item placement and numbers needed updating for a modern Kingpin audience.
So I made the map a bit smaller to better fit the Kingpin view distance, replaced the original player spawns and added more, and updated the weapon/item placement and amounts.
You can download (K9)'s Frag Bowl 2021 from
here.
Just extract/unzip the files to your Kingpin folder and they will be placed in the correct locations.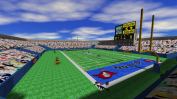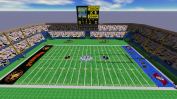 ---