Now that Monkey Harris has added a rocket mode to the latest Monkey Mod I thought it would be a good time to post about this older map called Rocket Arena.
Rocket Arena, by Tilak is a small, arena style, map with the only weapons being rocket launchers. It does include rocket ammo, pistol mods, armour and health packs too. The map also containes several jump pads to get you up to the second level walkways and around the map. With the only wepaon being the rocket launcher the action is pretty frantic.
You can download Rocket Arena (rarena.bsp) from here.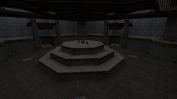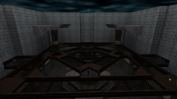 ---