Macanah has now set up a Crash Squad mod server.
Server details:-
Server : planetmnh.16mb.com KP crash squad Mod
IP : 60.242.253.213:31556
Maxclients : 24
Admin : Macanah
CRASH Squad is a multiplayer mod about the struggle between the CRASH Squad, LA's anti-gang suppression unit and the Crenshaw Mafia, a notorious LA street gang. The game play is team-based and each scenario has its own objectives. Each team has it's own subset of weapons. Weapons include pistols, shotguns, automatic weapons, assault rifles and sniper rifles along with hand weapons.
There are two scenarios:-
VIP Rescue
The CRASH Squad must escort a VIP through the city of Los Angeles to his safety while the Crenshaw Mafia attempt to stop them.
Bombing
The Crenshaw Mafia must bomb one of two bombing sites while the CRASH Squad must try to stop them or defuse the bomb after it's been placed.
You can get the required Crash Squad client files from here.
Just extraxt to your Kingpin folder.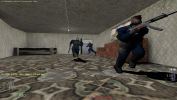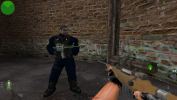 ---