Tony Montana "Scarface" thug skin by The Doktor [DOA].
Well here he is to say goodnight to all da bad guys in Kingpin, so lookout! :)
You can download the Scarface thug skin from here.
Just unzip the files to your Kingpin folder and they will be placed in the correct locations.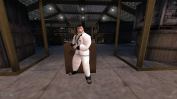 ---