The new death match map Damage01 is now released.
This is a remake of an old Doom 2 map. I used Acc's Build Map Converter to decompile the map and then rebuilt it from there.
Damage01 is a small death match map. It is an open area with a corridor around most of the edge of the map. It has two teleports, all weapons except the flamer and uses standard textures. It has ten player spawns.
You can download Damage01 (damage01_kp.bsp) from here.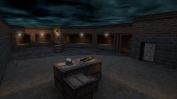 ---