There were a couple of little annoying issues in my 4Room Urban map so I updated it with a few fixes.
The fixes are:-
Added clip brushes around the ladders and the wire fence so you don't get caught on them anymore.
Removed one grenade ammo.
Darkened the middle, top, room a little.
Improved the texture joins in the room with the yellow wallpaper room so it's harder to see where the textures join together.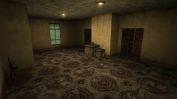 Update Tuesday 8th March I had some discussions with Hypov8 and he showed me how to further improve the fixes. I took his advice and have released a new version. Sorry about that but I wanted to get it right and it is only a small download.
You can download 4Room Urban 2016 from here.
---