Krypt is a popular map on the Newskool Fragfest Server. What you may not know though is that there are actually three versions of this map.
The map is a small death match map set in an ancient tomb or krypt.
The original version was called Tomb and was made by Cybopat. It used textures from counter-strike.
You can download Tomb (tomb.bsp) from here.
Then KiteKat released a version called Krypt that used mainly standard Kingpin textures and changed the weapon and item placement.
You can download Krypt (krypt.bsp) from here.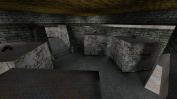 Then in 2005 Trixi released another version that was retextured using Serious Sam textures.
You can download Krypt 2005 (krypt_2005.bsp) from here.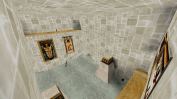 Just extract/unzip all files to your Kingpin folder and they will be placed in the correct locations.
---