I recently found the Windows server files for the old KP2 mod. The mod was never taken out of beta but it does work, and we host the client files, so I have uploaded the Windows server files.
For those of you who don't know the KP2 mod is was popular around 2003-2007.
The KP2 mod features new weapons, weather effects, breakable objects, and single player props in the multiplayer environment.
You can download the KP2 Windows Server Files from here.
I have also updated the KP2 Mappack and it now includes all the maps that were made for the mod that featured, props, rats, dogs, weather etc. Btw any death match maps will work with the mod.
You can download the KP2 Mappack from here.
If you want to join a KP2 Mod server you need client files. You can download the required KP2 client files from here.
Just unzip/extract all files to your Kingpin folder and they will be placed i nthe corect locations (kingpin/kp2).
To run a public server you need to use the KPDED2 Enhanced Kingpin Server files which you can download from here:-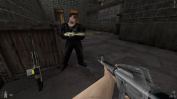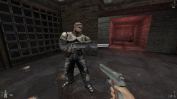 ---