elfor has released some new custom crosshairs for Kingpin.
There are five different sets of crosshairs (each set has three different crosshairs) and all sets are available in two different colours.
The colours are yellow and light greenish (similar to Hud colours). There are two screenshots included which show the different sets of crosshairs.
It probably easiets to just extract/unzip the files to a temp folder somewhere and decide which set you want ot use then just copy and paste the relevant pak file to your Kingpin/main folder.
You can download the elfor crosshairs from here.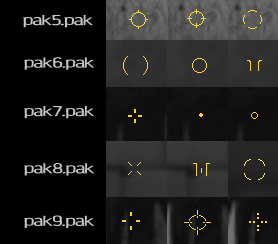 ---