Macanah has released a new map for the Power2 mod called Defector.
It's a conversion of his CTF Defector map.
It's a medium sized, darkish, multi levelled, map where using the grappling hook (harpoon) is almost a must.
You can download Power2 Defector from here.
Just unzip the files to your Kingpin folder and they will be placed in the correct locations.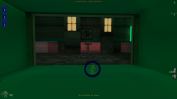 ---