There was a texture missing from the zipfile of the KPDM1 Quaked map.
I have added the texture, a levelshot, and the source map file then uploaded the map again.
KPDM1 Quaked is KPDM1 remade in the Quake 3 style by Hypov8. It uses mostly Quake style textures and there are no ladders (as there are none in Quake 3 ). So it uses platforms and stairs instead. It also includes some Quake sounds. It's a very nice looking map.
You can download KPDM1 Quaked from here.
Just extract/unzip the files to your Kingpin folder and they will be placed in the correct location.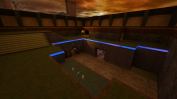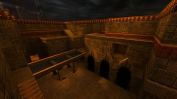 ---