Monkey Harris has set up the custom death match server ready for the game on Thursday.
So if you want to grab the pak1 file ahead of time (it onyl takes 15 - 20 seconds to download) then jump in the server now.
Currently the server is called MrD's Custom Deathmatch" server but will be renamed tomorrow to "Thursday Custom Deathmatch".
Server : MrD's Custom Deathmatch server
IP : 37.247.117.19:31515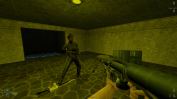 ---