Egyptian Tomb (etomb_rev1.bsp) is a smallish, two level, map, which has an Egyptian theme thanks to the Serious Sam textures. It was converted to Kingpin by Garcia[FnR].
It has 16 player spawns and ample weapons and items.
You can download Egyptian Tomb from here.
Just unzip the files to your Kingpin folder and they will be placed i nthe correct locations.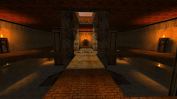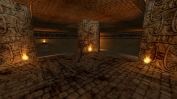 There is also an urban version that was made by DirtyDog.
You can download E-tomb UrBan from here.
---