One of the lesser known custom player models is Male Hydralisk. The model is based on the Zerg Hydralisk from Starcraft and was converted from Quake 2. I am not sure who converted it to Kingpion (probably Sylacs or Knight) but th original Quake 2 model was made by Warlord.
It just has one skin and no viewable weapons (it attacks you with its claws).
You can downloa Male Hydralisk from here.
Just unzip/extract the files to your Kingpin folder and they will be placed in the correctb locations.
If you want to grab all the player models made for Kingpin so far get the models pack here.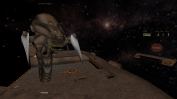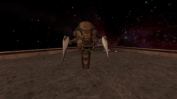 ---