I have added the old death match map Castle Greyskull to our maps archive which was made by [THC]Bun. The map name is cg2.bsp
This is an old map from back in 2000.
As the name suggests it is a map set in a castle (but there is no skull and no He-Man).
It has eight player spawns and one of every weapon. I think this is a little light on for this map but there is plenty of ammo and health.
You can download Castle Greyskull from here.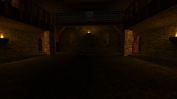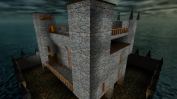 ---