Team Pro 2020 is an updated version of the Team Pro map made by
Hypov8
many years ago. Originally it was a famous Half-Life map that Hypo made a version of in the early days of Kingpin.
It's a large Bagman map with several ways to each team's base.
A lot has been changed in the new version:-
Some of the lighting
Some of the weapon and item amounts and placement
Some of the textures
Some of the player spawn amount and placement
Added more corridors and ways to get to other teams base
Made changes to the money drop area
Added some directions (arrows) to the other team's base
Included Hypov8's suggestions (of course)
Miscellaneous other little things
You can download Team Pro 2020 from
here.
Just extract/unzip the files to your Kingpin folder and they will be placed in the correct locations.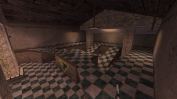 ---