Here is a Claire Redfield skin for the bitch model. Claire Redfiled is a character from the Resident Evil games.
You can download the Claire Redfield skin from here.
Just extract all files to your Kingpoin folder.
The skin names are head_6cr, body_6cr, legs_6cr.
To change to this skin pull down the console and type in - skin "female_bitch/6cr 6cr 6cr".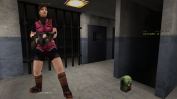 ---