I'm still adding maps from Captain Death's map list and Whoop Ass's map zipfile that they sent me.
One we didn't host here but I had on an old Kingpin install is Metalblood.
Metalblood is a smallish arena style map, which I assume is by Bloody, which uses very few textures. The map has a yellow and orange metalic look throughout the map which consists of three levels. There are plenty of weapons and it looks like it would play ok with a small crowd.
You can downlaod Metalblood from here.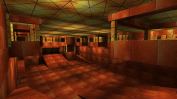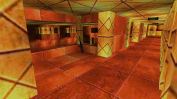 ---