I was surprised to see we didn't have this map in our archive.
Fatcap, by Colt, is a smallish death match map. It is made up of two separate square rooms only connected by teleports. The teleports transport you to the other room, to a small upper level, where there are weapons and armour.
Thanks to Whoop Ass we can now host this map here :)
You can download Fatcap from here.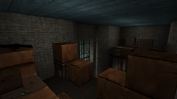 ---