Fredz
has updated his Kingpin server browser to v0.3.
Whats new in v0.3:-
-Based on newer and lasted source code from Gloom Server Browser by
r1ch
-You can now maximize the window.
-Shows with icons if it's Linux or Windows server
FREDZ fixes:-
-Fixed icons alpha.
-64 bit support.
-Added game mode.
-Added game folder.
-Misc fixes for Kingpin
You can download the updated version here:-
For 32bit
For 64bit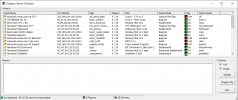 ---