KP Citadel 2006 by
{GT}Knight
is map I hadn't seen in a long time until I found it on an older PC I have.
It is a smallish arena style death match map. It's very colourful and mainly utilises the KPDM5 texture set and also uses a custom sky.
It is set in a citadel, there is a fountain in the centre, you climb up vines to access the roof area, and there are large statues around the edge of the map.
There are ample weapons and the map even has large birds flying around.
You can download KP Citadel 2006 from
here.
Just extract/unzip the files to your Kingpin folder and they will be placed in the correct locations.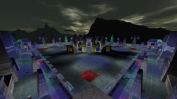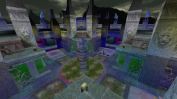 ---