There was some conjecture during the Thursday death match game that EvilBunny had dropped in for a game. Evilbunny was a modeller back in the early days of Kingpin.
It made me think about the many models that had been made for Kingpin. Of all these models only three are original models made for Kingpin with the rest being converted from other games.
One of the original models is Anna Louise. It's a female player model and was made by Hellhound. The model is a young woman who is wearing a baseball helmet and looks like she can take care of herself. The model comes with just one skin, but with accesories including rayban glasses and the backpack. The model has KP vweap support and uses a baseball bat instead of the pipe.

You can download Anna Louise from here.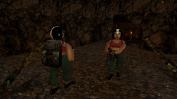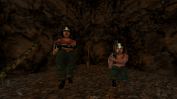 ---