Killa has now released his first map for Kingpin. It's a Bagman map called Team Commotion.
Team Commotion is a small Bagman map where the setting is a mirrored version of the main stairs area of the Central Towers map.
It has 18 player spawns and plenty of weapons and items but no grenade launcher in this one.
You can download Team Commotion from here.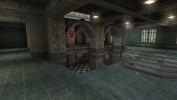 ---