We host a custom skin for the Harpoon that was made by Micketh. The harpoon is the grappling hook in the Capture the Flag and Power2 mods.
The files are in a pak2 file and just need to be extracted/unzipped to your kingpin/ctf and/or kingpin/power2 folders.
You can download the custom harpoon skin from here.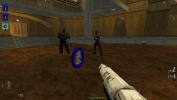 ---