Johnny Bravo is the main character from an old animated cartoon show that ran from 1997 - 2004.
Phonic took the character and created a thug skin for him. It's a nice looking, cartoonish thug skin.
Download Johnny Bravo thug skin from here.
Just unzip all the files to your kingpin folder and they will be placed in the correct locations.
Easiest way to select these skins is to:-
Pull down the console (tilde key ~)
Type in :-
skin "male_thug/jbr jbr jbr"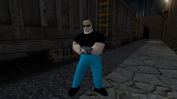 The Johnny Bravo skin is also included in the Monster Skins Pack here.
---