I have released a new death match map called Tsunami.
Tsunami is a small, arena style, death match map that is a tidal wave of action and fun :)
It is set in some king of container yard.There are three shipping containers spread around the yard that you can climb up on to get items.
There is a small building you can enter, a lower walkway with cracked pipes and a small side area with a dumpster and the Heavy Machine Gun (HMG).
There are thirteen player spawns and ample weapons and items.
I also used some of Roarkes' great Graffiti textures in the map.
You can download Tsunami from here.
Just unzip the files to your Kingpin folder and they wil lbe placed in the correct locations.
Thanks to everyone who tested the beta version on Sunday.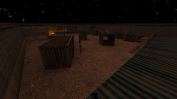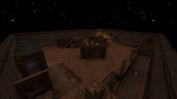 ---