Xanarki has setup a new dedicated server for Kingpin. It is called California Carnage and is currently running the Bagman mode.
He went thru the entire archive of Bagman maps to find a good balance of sizes (10 large maps, 20 small maps, and 30 medium maps), and they range from fan favorites to forgotten gems. Other modes will be hosted in the future.
The server is located on the west coast of the U.S.; thus, it is more suitable for Australian and U.S. players, but European players are reporting pings under 200 as well.
Plans to create an organized game favored towards U.S. timezones is being considered, but for now, you can hop in anytime for a game.
Server: California Carnage
IP: 71.93.144.165:31510
Maxclients: 20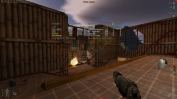 ---