I have made a new Bagman map called Team Crossfire 2016. This is a straight forward map that is a conversion to Bagman of an old death match map made by Cujo.
It's a smallish map with three ways to get to the other team's base. The middle corridor has the money drop, of course, but there is some lava that way which you have to be a bit careful not to fall into. If you do you can use the ladders to get out lol.
The bases are well laid out, with ample wepaons and some song samples playing too :)
Overall it's a fun little Bagman map which I hope you will download and play.
You can download Team Crossfire 2016 from here.
Just extract all files to your kingpin folder.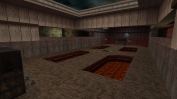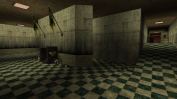 Monkey Harris has added this map to the Newskool Bagman server ready for Sunday's game :)
---