Recently
DirtyDog
updated the Crash Mod skins. He has now released them for general use in death match servers.
You can download the Crenshaw Mafia and Crash Mod thug skins
here.
Just unzip all the file to your kingpin folder and they will be placed in the correct locations.
There is no head skin included so you can just use any existing head skin such as 009.
Easiest way to select these skins is to:-
Pull down the console (tilde key ~)
Type in :-
skin "male_thug/009 01s 01s"
or
skin "male_thug/009 02s 02s"
Otherwise you can go to the Gangbang "player setup" and the new skins will be located there.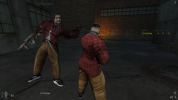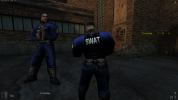 ---