Macanah has now released his latest death match map called Mistaken (mnhkpdm8.bsp).
It is similar in style to his other maps. It is set in a large multi level room. It features teleports, rain, plenty of weapons and items and has 8 player spawns.
You can download Mistaken from here.
Just extract/unzip files to your Kingpin folder.
Check it out and if you have any feedback leave it in the comments for this news post.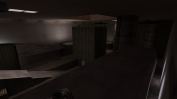 ---